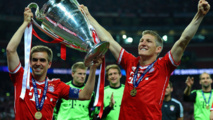 Munich -
By Martin Moravec,
-
Champions Bayern Munich and Hoffenheim open the 56th Bundesliga season on Friday.
And as in the past various issues and personalities could stand out, most notably the following 11:
NIKO KOVAC: It is a big step from Eintracht Frankfurt to Bayern Munich, and coach Niko Kovac knows what that means: "I know that you have to be successful here, we are prepared for it." The former Bayern player took the reigns from Jupp Heynckes and in his first official match in charge beat Frankfurt 5-0 in the German Super Cup.
WORLD CUP RECOVERY: Germany's World Cup disaster in the form of a group stage exit as holders shocked the players such as Munich's Manuel Neuer, Mats Hummels and Thomas Mueller. But there is hope that the players will be motivated even more to do well now, with Munich chairman Karl-Heinz Rummenigge saying: "When you have messed up at a tournament the players must show that this was an exception."
DFB: Germany's football community is awaiting coach Joachim Loew's analysis on the World Cup meltdown, set for August 29. Will he field more young players and attend more Bundesliga games? Loew will also have comment on the controversy around Mesut Oezil and possibly get used to new structures around the Germany team, with DFB president Reinhard Grindel, also under fire, urging that fans must be able to get closer to the team again in the future.
VIDEO REFEREE: Officials hope that the second season with video refereeing will see less controversy than the first, with the way the technology was used at the World Cup possibly a template. Stadium spectators are to be informed on the screens when an incident is reviewed, and the TV audience will like at the World Cup also see how the referee is reviewing.
AXEL WITSEL: Belgium midfielder Witsel is the biggest name joining the Bundesliga, at Borussia Dortmund for 20 million euros from Tianjin Quanjian. Coming off a third-place finish at the World Cup, the midfielder is to give Dortmund more stability, and in his first official match he scored a stoppage time equalizer which helped Dortmund win their cup match at Greuther Fuerth. "He plays calmly and simple. And he can score important goals," coach Lucien Favre said.
DERBYSTAR: After always playing with Adidas balls since the league started using just one official ball in 2010, Bundesliga players will now kick a ball from much smaller manufacturers Derbystar. Every club will receive 300 of the Brilliant APS balls in the familiar black and white, plus an additional 50 orange ones for training and possible matches on snow.
LUCIEN FAVRE: Borussia Dortmund hope for a successful restart after a poor season by their standard with two coaches, Peter Bosz. The man to achieve this is coach Lucien Favre, back in the Bundesliga after two years at French side Nice, having previously enjoyed big success at Hertha Berlin and Borussia Moenchengladbach. Attractive and fast-paced football will be the game plan as new signing Abdou Diallo said: "Everything is important for him."
MARTIN KIND: Hanover faces another difficult season off the pitch after club boss Martin Kind failed in his takeover bid. Kind is expected to make another attempt get an exception from the 50+1 rule which outlaws investors getting a majority - unless they have substantially invested into a club for more than two decades. Hardcore Hanover fans oppose Kind's ambitions which ruined the atmosphere at many of their home games in the past season.
JULIAN NAGELSMANN/RALF RANGNICK: Julian Nagelsmann would love to big farewell from Hoffenheim with a title, after leading them to a club-best third place in the past season. The young coach will next year move on to leipzig, where sports director Ralf Rangnick is taking over the coaching job again until Nagelsmann arrives, aiming to do better than sixth place under previous coach Ralph Hasenhuettl.
TABLETS: Like at the World Cup, tablets are now allowed on the coaching benches in the Bundesliga, mainly used to communicate with staff members in the tribunes. Each team can use a maximum three tablets but the devices can not be used to protest referee decisions. In order to prevent this the DFB has announced fines in the case of offences.
TRADITION: SV Hamburg and Cologne have been relegated but promoted Nuremberg and Fortuna Dusseldorf also have a proud and long Bundesliga tradition. Nuremberg coach Michael Koellner, a top tier novice, has in the past visited a monastery with his players and given them a Paulo Coelho novel to read; while Dusseldorf's Friedhelm Funkel is a veteran at the helm with vast experience. They however share the same aim: avoiding the drop.