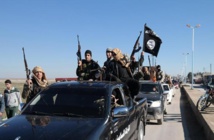 It seems the whole world continues to believe in the deceptive global mission to eliminate Daesh. There is a widespread belief that achieving a military victory over this satanic entity will eventually pay off. This belief has made great powers, political elites and parties overlook the deeds of tyrannical powers that have promoted the illusion that they are fighting Daesh and obscurantist thoughts.
Anyone subjected to fear will seek a military victory, as if Daesh emerged as a result of its own military victory. There are widely agreed-upon causes for its rise, none of which have been handled. Iraq has been repeating this equation since the fall of the Baathist regime — no one has learned the lesson. The US disbanded the Iraqi Army and banned the Baath Party. As a result, Abu Musab Al-Zarqawi's group emerged.
"Awakening" groups were created following bloody clashes with the terrorist organization. At first this seemed to be a solution, but then-Prime Minister Nouri Al-Maliki criticized them so Al-Qaeda fighters returned to the cities from the desert.
The US tried to handle this failure by launching airstrikes on the terrorist organization and killing its leaders one by one. Soon after, the government released detainees from Bucca prison, who founded Daesh and developed it into a "caliphate" that expanded to Syria. The rest is history.
All this has taken place within a defined and specific political context that has been left untreated. The world remained silent about the massacres of Aleppo and Iranian expansion into Iraq, Syria, Yemen and Lebanon, which has resulted in a Sunni-Shiite conflict that has split the Middle East.
Daesh and other militant organizations will be defeated, but they will seize chances to retain their presence in any area where political and military conditions allow them to regain their influence. The political and security conditions that give rise to Daesh are still present.
Daesh was born because some sides decided to capitalize on the defeat of a domestic group — their investment bore fruit when it produced this freakish creature. Today, a considerable war to defeat the organization in Iraq and Syria is underway, yet at the same time there is also a war against Sunnis to further humiliate them. In other words, we have two wars: One against Daesh, and another to recreate the conditions that produced it.
Daesh is not a hierarchical organization like Al-Qaeda — in a sense it cannot be considered an organization. It is more like a disorder that is stronger and bloodier than the group that the world is fighting in Mosul, Raqqa and Al-Bab. Efforts to understand the relationship between the executors and the organizational heads have not helped, because no clue has led to a sure-fire result. Discovering more cells or tracing accomplices and suspects will not be of real value as long as there are those who can plow a truck into innocent people, assassinate an ambassador or seize a castle, such as last week's incidents in Berlin, Ankara and Karak, respectively.
These incidents, which were not the first and are perhaps not the last, stress the fact that all are battling a dormant thought that does not need direct orders or organizational contact to be awakened. The rattling echoes of victory seem to be a celebration of an illusion that could trigger a new freak unless the real reasons are addressed.
• Diana Moukalled is a veteran journalist with extensive experience in both traditional and new media. She is also a columnist and freelance documentary producer. She can be reached on Twitter @dianamoukalled.