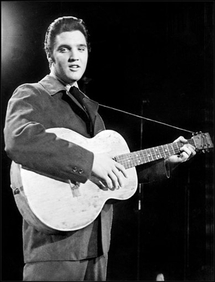 SAN FRANCISCO (AFP) - Sony BMG is using the magic of the digital age to let Elvis Presley lovers sing Christmas duets with their departed idol and send the songs in electronic holiday greeting cards.

Those wishing to join Elvis in singing "Blue Christmas" can start their recording sessions online at singwiththeking.com.

The website plays visitors a recording of Elvis singing the song with country music star Martina McBride, and then provides visitors with a telephone number to call and take their shot at McBride's part.

The finished piece can then be sent by email as digital holiday cards. Those who think their vocal performances are assured to give listeners a blue Christmas can opt to send the original Presley-McBride version instead.

Recording duets is free of charge, but the website entices visitors to buy compact discs of Presley Christmas song duets.