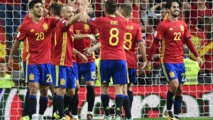 St Petersburg

(dpa)

-
Spain dominated the ball against Russia, making a World Cup record 1,137 passes over 120 minutes, in an exhibition of possession football that was reminiscent of how they strangled teams during their victorious 2010 World Cup campaign.
Except eight years on, football has changed, and Spain have not.
Hosts Russia triumphed 4-3 on penalties to reach the World Cup quarter-finals on Sunday after a surprising 1-1 draw in Moscow, which could spell the end of an era for La Roja.
Former coach Julen Lopetegui, sacked on the eve of the tournament, appeared to have found a way to make Spain's possession game more threatening and direct, but his interim replacement Fernando Hierro was unable to coax that from his players as they crashed out in Russia.
Legendary playmaker Andres Iniesta retired in the immediate aftermath of the defeat, the former Barcelona midfielder calling time on his international career at 34.
It was Iniesta who scored the most important goal in Spain's history in South Africa, in extra-time to help them beat Netherlands in the 2010 final, but he could not intervene after coming on as a substitute against Russia.
Meanwhile Barcelona defender Gerard Pique, who conceded the penalty Russia equalized with, previously stated he would retire from national team duty after the tournament.
Spain's entire campaign was a disaster. It was not as brutally obvious as the debacle in Brazil four years ago, when Netherlands gained revenge by crushing them 5-1 in their opening fixture, but the details do not make for happy reading.
Beyond Spanish FA chief Luis Rubiales's egotistic decision to sack Lopetegui for agreeing a deal to become Real Madrid's next manager after the tournament, huge flaws were laid bare.
Without Lopetegui's guidance, Spain resorted to passing football which did not penetrate, in particular finding it hard to break down Iran's defence in the group stage as well as Russia in the last 16.
"We played at a level and with a style that nobody had done before. We won three major tournaments back to back," Hierro said, referring to Euro 2008, the 2010 World Cup and Euro 2012.
"Now we are in 2018, and many things have changed. We see people are playing with a defence of five, which we thought had been forgotten. There are also a lot of direct balls, and quick transitions, everything is changing. Trends change."
While blaming Hierro for Spain's flaws is harsh, considering how little time he had to prepare, he may not be kept on by Rubiales.
"We feel hurt by this, knocked out by an opponent not on our level," said the Spanish FA chief. "We will look at (Hierro's future) over the next few weeks and announce the decision when it is made."
Spain managed just one win in the entire competition, a slim 1-0 victory over Iran, drawing 3-3 with Portugal and 2-2 with Morocco, before the Russia defeat.
Captain Sergio Ramos admitted there would be changes in the squad but also insisted there was reason to be optimistic, as well as proud of Spain's previous success.
"We have a team that can keep dreaming," said the Real Madrid centre-back. "There will be some players who come in and others who leave, but they will always have this pride."
Whether Hierro continues in charge or not, the next challenge for Spain is to develop their game along the lines Lopetegui highlighted, with more speed and incision than they managed to show over four matches in Russia.
There are few obvious replacements for Hierro, who will hope he is given the chance to show he can be the man to lead Spain into the future