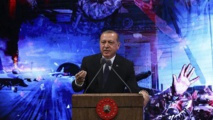 Idlib is the only province in Syria under rebel control, and is dominated by an al-Qaeda-linked insurgent faction.
Turkey has increased its military presence along its border with Syria near Idlib, the Dogan news agency reported, after having agreed with Russia and Iran to work towards a ceasefire in the region.
Turkish-backed Syrian rebels have posted on social media that they too are gearing up for action.
"Today, there is a serious operation in Idlib, and it will continue," Erdogan told members of his ruling Justice and Development Party in Afyonkarahisar, in western Turkey. He said the situation in Syria was affecting Turkey's security.
After his speech, Erdogan was asked by journalist to expand on his remarks. "Now, the Free Syrian Army is carrying it out, our soldiers are not there yet," Erdogan said, referring to Syrian rebel forces.
The Turkish leader also said preparations were being made to deal with people forced to flee as a result of the fighting.
Idlib, which has an estimated 2 million residents including those displaced from other conflict areas, has been battered this week by Russian airstrikes amid fighting in the south of the province.
Erdogan said this week that Turkey would monitor a de-escalation inside Idlib, while Russia would be present outside the province.
"Inside, borders are under our protection, outside the border is under Russia's protection," Erdogan reiterated in Afyonkarahisar.
Turkey has backed rebel groups in Syria's conflict, while Iran and Russia have supported President Bashar al-Assad.
The three have joined forces in recent months as part of negotiations in Kazakh capital Astana to reduce violence in Syria.
Erdogan said that after Idlib, Turkey could take "new initiatives," amid speculation about whether Ankara would look to move against Kurdish forces in Syria.
Meanwhile, Russia said it had severely injured Abu Mohammed al-Joulani, a key military leader in the al-Qaeda-linked faction known as Hayat Tahrir al-Sham (HTS), while killing a dozen field commanders and about 50 militants in an airstrike.
HTS denied al-Joulani was injured and said Friday it launched attacks in Hama, south of Idlib, attacking government forces loyal to al-Assad.