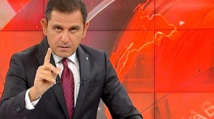 Fatih Portakal
Erdogan demanded a court case opened against Fatih Portakal over "completely false and manipulative statements" on social media, the state news agency reported.
Erdogan accuses the host of the prime-time news programme on Fox TV of insulting the president, an offence that could result in nearly five years in prison according to Turkish laws.
Portakal in a tweet late Monday criticized a donation campaign initiated by Erdogan to help cope with the spread of the coronavirus pandemic.
Erdogan likened the solidarity action to national taxation orders during Turkey's war of independence in the early 1920s. The orders resulted in the confiscation of certain public goods and properties.
"I am wondering if they will also ask for money from those who have deposits or savings ... Unfortunately, I cannot say that it will not happen," Portakal wrote.
Turkey's banking regulator BDDK separately filed a complaint against Portakal for "damaging the reputation" of the banks.
Portakal has in the past came under fire from Erdogan over his criticism of government policies. In 2018, Turkey's broadcasting authority RTUK suspended Portakal's news show for three days shortly after he criticized pressure on the opposition.
In Turkey, scores of journalists have been jailed and dozens of media outlets shuttered, particularly since a government crackdown on critics following a failed coup attempt by a faction of the military in 2016.