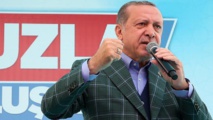 The decrees subordinate the general staff of the defence ministry, among other changes, the state-run Anadolu news agency reported.
The new decrees were published on the second anniversary of a failed putsch attempt by factions of the military.
Erdogan was sworn in as president on Monday, about two weeks after his re-election. The day after, three new decrees, including one giving him the power to appoint and promote the top brass in the armed forces, were published in the official gazette.
With his swearing-in, Turkey completed its transition from a parliamentary model to an all-powerful presidency.
Erdogan is now both the head of state and government, with the prime minister's post abolished. He has sweeping new powers, including over the judiciary and the ability to rule by decree.