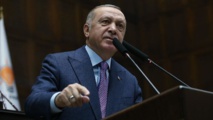 "We have two martyrs of ours there," Erdogan told reporters in Ankara before leaving for Azerbaijan.
He also said that fighters from the Syrian National Army (SNA) were working alongside Turkish troops in Libya.
The SNA comprises Turkish-backed opposition rebels who have been fighting in northern Syrian against the forces of President Bashar al-Assad.
Turkey supports Libya's UN-backed Government of National Accord (GNA) based in Tripoli, and in November both sides signed agreements on military and security cooperation and maritime boundaries.
The military deal provided for the training of military personnel and logistical support, and Turkey has repeatedly claimed that its forces are involved in coordination in Libya.
GNA Prime Minister Fayez al-Serraj has been battling for power against an administration in the east led by military strongman Khalifa Haftar.
On Monday, the United Nations announced that the warring sides prepared a draft ceasefire agreement during talks in Geneva.