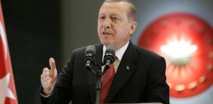 "Once the new German government has been formed, there will of course be a visit at the highest level," Yildirim said. "President Erdogan will come (to Germany) and Mrs Merkel, the German chancellor, will come to Turkey."
He added that there would be more frequent meetings in future at foreign minister level.
On Friday, the Turkish authorities released German-Turkish journalist Deniz Yucel after a year in detention for investigation. He was allowed to leave the country, even though he faces charges of supporting terrorism.
The release removed a major point of conflict between the two countries.
In the interview, conducted on Saturday, Yildirim made clear that he believed Erdogan and other Turkish politicians would hold rallies in Germany aimed at the large Turkish minority there.
"We would always want that. These meetings with people from Turkey are events that should not trouble Germany," he said.
Last year there was controversy over political rallies in Germany ahead of a Turkish referendum on a change to the constitution granting greater powers to the president.
The German authorities banned some events on security grounds. The Turkish government responded by accusing Germany of using "Nazi methods."
In June, Germany's Foreign Office informed all foreign representatives that election rallies held by foreign politicians would be prohibited in the three months preceding the election involved.

In the interview Yildirim also said he was hoping for renewed military cooperation with Germany in the building of a new Turkish tank, saying that the hope was for the engines and technical equipment to be made in Germany and for the simpler parts to be made in Turkey.

The Turkish army's use of German Leopard tanks in its recent incursion into northern Syria has provoked heated debate in Germany.