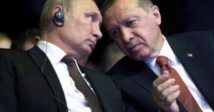 "If Mr Trump says 'I am strong, so I am right,' then he is mistaken. The one who is right is the strong one," Erdogan said in a sharpening of his tone towards the US leader. "Here, we are the right ones."
Trump's announcement was designed to rile things up and not to reconcile, Erdogan said.
Addressing supporters in Ankara before flying to Greece, Erdogan said he plans to talk with world leaders, including Russian President Vladimir Putin, Pope Francis and top-ranking European officials.
The Turkish leader is aiming to bring together the Organization of Islamic Cooperation, a group of 57 Muslim nations, next week in Istanbul for a meeting.
There has been a wave of international condemnation in the wake of Trump's announcement on Wednesday, which also included a plan to move the US embassy from Tel Aviv to Jerusalem. Turkey, in particular, has been vocal in its criticism.
Turkish Prime Minister Binali Yildirim warned that "Pandora's box was opened in the region with the decision," the state-run Anadolu news agency quoted him as saying.
"The US president's declaration of Jerusalem as the capital of Israel and the steps related to it are null and void for Turkey."