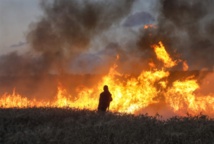 "We are in the midst of a protracted battle and our policy is clear: We will not allow Iran to entrench itself militarily in Syria," Netanyahu said on Thursday, amid some of the worst direct violence in years between arch-rivals Iran and Israel.
Israel announced early Thursday that it hit "almost all" Iranian infrastructure sites in Syria in dozens of overnight airstrikes launched in response to a barrage of 20 rockets Israel says Iranian forces fired into the Golan Heights.
However, the defence committee of Iran's parliament said Iranian forces had nothing to do with the attacks on Israeli positions.
"This is another lie from the Zionist regime for propaganda purposes," said committee spokesman Mohammad Nobandegani, adding that Iran has no military forces in Syria, just advisers.
Iran's foreign ministry also asserted Friday that Iran was not involved in the shelling of Israeli positions in the Golan Heights.
Foreign Ministry spokesman Bahram Ghassemi accused Israel of making baseless allegations in order to justify its attacks on Syrian positons.
Thursday's exchange was the most severe flare-up so far between Israel and Tehran regarding Iran's military presence in Syria amid the country's seven-year civil war and raised fears that a wider conflict could erupt in the region.
The United States condemned "the Iranian regime's provocative rocket attacks" from Syria on Israeli positions in the Golan Heights.
"We strongly support Israel's right to act in self-defence," the White House said in a statement, after the most serious exchange of fire in years between the two Middle Eastern rivals.
Bahrain, a Gulf kingdom and outspoken critic of Iran, has defended Israel's strikes in Syria, accusing Iran of destabilizing the region.
"So long as Iran destabilizes the region and violates countries with its forces and missiles, any country in the region, including Israel, has the right to defend itself by destroying sources of danger," Bahrain's Foreign Minister Khalid bin Ahmed Al Khalifa tweeted.
UN Secretary General Antonio Guterres expressed "utmost concern" over the firing of rockets and urged "an immediate halt to all hostile acts and any provocative actions."
French President Emmanuel Macron and German Chancellor Angela Merkel were the among the world leaders to discuss the sharp escalation in tensions and to urge restraint.
A German Foreign Ministry statement on Twitter also condemned Iran's role. "These attacks are a serious provocation that we condemn in the harshest way possible. Israel has, as we have stated several times, a right to self-defence."
British Prime Minister Theresa May struck the same note against Iran, saying in a statement that Israel has "every right to defend itself."
Israel has said that it will not tolerate Iran seeking to establish permanent military bases in Syria as the war there winds down.
The Israeli strikes hit targets in different parts of Syria, killing at least 23 pro-government fighters, a monitoring group reported. The dead include five Syrian soldiers and 18 non-Syrian allies, the Syrian Observatory for Human Rights said.
The Syrian army command said in a statement carried by the official news agency SANA that three soldiers were killed. A radar station and an ammunition depot were destroyed, while a number of air defence facilities were damaged, it added.
A Foreign Ministry statement condemned "the direct aggression by the Zionist entity and its supporters," saying it will lead to nothing but an increase in tensions in the region, SANA reported.
"A new phase of aggression against Syria has started after the defeat of their [US and Israeli] agents," read a Foreign Ministry statement.
Lebanese broadcaster al-Mayadeen, which has close links with the Syrian government and Iran, said any further Israeli attacks on Syria would be met with larger attacks on Israel itself.
Syrian and Iranian military facilities in the war-torn country have been hit several times since April. Iran has vowed retaliation for an earlier alleged Israeli strike that killed a number of Iranian personnel.