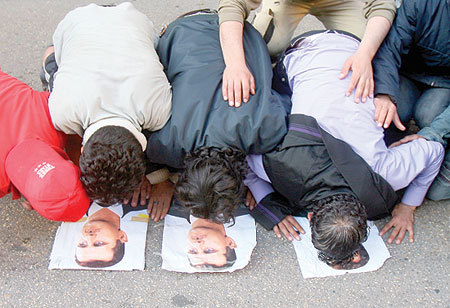 President Nicolas Sarkozy of France, German Chancellor Angela Merkel and British Prime Minister David Cameron issued a joint plea to Assad to step down, with European Union partners simultaneously warning of new joint sanctions.

Switzerland meanwhile recalled its ambassador to Damascus -- a day after Bern added 12 new names to a list of key players under financial embargo and travel restriction.

The drive comes ahead of a special session of the UN Human Rights Council on Syria, which is to take place on Monday, amid concerted international action begun when US President Barack Obama announced an executive order that freezes all Syrian government assets and forbids US investment and exports to the country.

"Our countries believe President Assad, who is resorting to brutal military force against his own people and who is responsible for the situation, has lost all legitimacy and can no longer claim to lead the country," Cameron, Merkel and Sarkozy said.

"We call on him to face the reality of the complete rejection of his regime by the Syrian people and to step aside in the best interests of Syria and the unity of its people."

In order to try and hasten that outcome, "we are actively supporting further strong EU sanctions against the regime of President Assad," they added.

EU foreign policy chief Catherine Ashton stressed in a statement on behalf of all 27 member states "the necessity for him to step aside."

She highlighted "large-scale use of military force" that "led to the killing or injury of many Syrian citizens."

Ashton warned that a lengthened list of those sanctioned is "under preparation" alongside "further restrictive measures that will broaden (the EU's) sanctions."

Banking giant Switzerland had already blocked assets worth 27 million francs ($34 million, 23.6 million euros) belonging to Assad and 22 other individuals, before recalling its ambassador for consultation.

The EU currently has 35 individuals and four businesses associated with the Syrian regime on its list, plus an embargo on arms and other materials that can be used in repression.

On Friday, ambassadors from the 27 EU states will meet in Brussels to decide the next wave of action.

Obama demanded for the first time earlier on Thursday that Syria's president "step aside" and imposed tough new sanctions on Damascus, including an asset freeze and an oil ban.

A Syrian official told AFP the West was "seeking to stoke more violence in Syria."

The UN human rights chief on Thursday urged the Security Council to refer the regime's crackdown to the International Criminal Court.

Rights groups say some 2,000 Syrians have been killed in the unrest since mid-March.