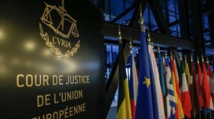 Russian President Vladimir Putin's spokesman expressed disapproval of the ruling, saying "it is hardly possible to agree with it in essence."
The ruling was "rather unexpected," Kremlin spokesman Dmitry Peskov said in comments carried by Russian state news agency TASS. Russia's Justice Ministry is responsible for handling such issues, Peskov added.
Russia passed a law in 2015 saying it could overrule decisions by a foreign court if it deemed them unconstitutional.
Tuesday's ruling was the third time the European court condemned Russia's treatment of Navalny, a well-known anti-corruption campaigner, and the second time it has made a rare ruling that the breach of his rights was politically motivated.
Navalny was found guilty in the fraud case in December 2014, along with his brother, and was given a suspended prison sentence and a fine. The fine was quashed on appeal.
The court noted that the house arrest had been imposed after Navalny had twice been arrested in February 2014 at banned public gatherings.
Those arrests were among seven arrests of Navalny already condemned in a judgement by the court last year as a breach of his rights to freedom and free assembly. The court found that on two of those occasions, the arrests were clearly politically motivated.
As well as last year's case over the arrests, the European court ruled in 2016 that a 2013 trial in which Navalny received a five-year jail sentence on corruption charges was unfair.
His sentence in that case had come shortly after he registered as a candidate in the Moscow mayoral election.
Notepad