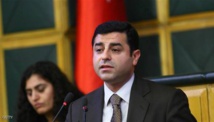 The court ruled that Demirtas' initial arrest in 2016 on charges including terrorism offences had been justifiable, but that repeated extensions of his pre-trial detention were not justified.
His lengthy pre-trial detention, after an initial arrest in 2016, had clearly been politically motivated with the aim of stifling pluralism and limiting the freedom of political debate, the court ruled.
His detention had also amounted to an unjustified interference with the performance of his duties as a member of parliament, the court ruled.