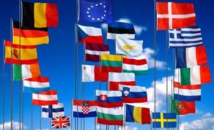 "We call on the Syrian regime and its backers to halt this offensive and once more to observe the ceasefire agreed in the autumn of 2018," the ministers wrote.
"We also call on them to end combat operations without delay and to comply with their obligations under humanitarian international law," they continued, adding that this took in the protection of humanitarian aid workers and medical personnel, many of whom had lost their lives while working to assist the civilian population in Idlib.
"We also call on Russia to continue negotiations with Turkey to defuse the terrible situation in Idlib and to contribute to a peaceful solution," the foreign ministers said.
Russia should not block the UN Security Council over the months ahead from renewing the mechanism for the cross-border transport of urgently needed aid to north-western Syria.
The text was signed by the foreign ministers of France, Germany, Italy, the Netherlands, Spain, Portugal, Belgium, Estonia, Poland, Lithuania, Sweden, Denmark, Finland and Ireland.
Following an escalation in fighting in the north-western governorate, around 900,000 people have been displaced, according to UN figures, with many heading north for the Turkish border.
Turkey, which has already taken in millions of Syrian refugees, has expressed concern.
Idlib is dominated by Hayat Tahrir al-Sham, also known as al-Qaeda in Syria. The Syria regime, backed by Russia, has argued that the Idlib offensive is part of the fight against terrorism.
Notepad