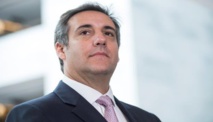 Prosecutors are pushing for a "substantial term of imprisonment" for Cohen, but Robert Mueller, the special counsel investigating Russian election meddling in 2016, has asked for leniency.
Cohen admitted making payments to two women – former porn actress Stormy Daniels and ex-Playboy Playmate Karen McDougal – in exchange for their silence over alleged affairs with the Trump ahead of the 2016 election.
He pleaded guilty in August to the campaign finance violations as well as tax crimes.
Cohen is to be sentenced at the same time for separate charges of lying to Congress, and Mueller argued that he was cooperating and had provided valuable information in his probe.
Cohen pleaded guilty in the Mueller investigation in November, saying he made false statements to congressional committees about plans for building a Trump Tower hotel in Moscow.
He provided information on his contacts with "Russian interests" during the campaign and other attempts by Russia to contact the campaign, according to a memo from Mueller.
He said that any jail time for Cohen in the Russia investigation case should be served concurrently with whatever sentence the former Trump lawyer receives in New York.
Cohen once said he would take a bullet for his boss. However, the two have fallen out this year, which Trump blasting Cohen as "weak" and "not a very smart person" who was lying to wiggle his way out of a prison sentence.