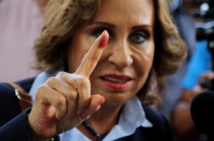 If none of the candidates gets an outright majority, a run-off will be held on August 11.
Torres was the favourite in the run-up to Sunday's vote, which centred on the issue of corruption.
The ex-first lady, who came second to President Jimmy Morales in the 2015 elections, is under investigation for alleged campaign finance violations.
Torres, 63, divorced then-president Alvaro Colom in 2011 to be able to run, as the constitution bars sitting presidents' spouses from succeeding them.
Right-winger Giammattei is a former prisons director who was jailed for several months and then exonerated after a police operation at a prison led to the deaths of seven inmates in 2006.
The 63-year-old has switched parties several times and is seen by his critics as just seeking power. A total of 19 candidates are running. All 160 seats in Congress were also up for election Sunday, as were municipal councils.
There were scattered reports of irregularities. The Prensa Libre newspaper reported that citizens in the town of Esquipulas and several other towns claimed voters from other regions had arrived on buses to vote for certain local candidates.
The election was postponed in the small town of San Jorge because the members of the local electoral authority resigned after receiving death threats.
Many fear that Sunday's elections will mark a setback for the fight against corruption which had appeared to make historic progress until recently.
None of the top candidates has an interest in favouring anti-corruption moves such as those undertaken by prosecutors and the UN-backed International Commission against Impunity in Guatemala (CICIG), which led to charges being brought against about 680 people and brought down then-president Otto Perez Molina in 2015, analysts say.
Morales, the current president, turned against the commission after it started probing his campaign financing.
The CICIG's mandate expires in September and Morales, who is not running because the constitution bars him from seeking a second term, is not expected to renew it.
The Constitutional Court rejected the candidacy of former attorney general and prominent anti-graft crusader Thelma Aldana, saying she did not meet the necessary conditions. Aldana, for whom an arrest warrant has been issued on embezzlement charges, is currently out of the country.
Eight million people were called on to vote. Turnout was estimated at below 60 per cent, against 71 per cent four years ago.
Polls closed at 6 pm (0000 GMT). Results are expected on Monday.