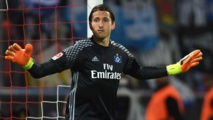 Adler, 35, who ended his career last year, said such a move would create an imbalance compared to the other industries which also have no income amid tight government lockdown measures and are struggling to survive.
"It will be difficult if there is no general solution that includes everyone, from the concession stand seller to the small business owner to the hotel owners," Adler said.
Government measures are in place until at least April 19 while football is suspended until at least April 30.
Bundesliga clubs hope to complete the season with games behind closed doors in an effort to minimise losses. Should the season have to be abandoned clubs could lose up to 750 million euros (811 million dollars).
Kicker reported last week that 13 clubs - four from the Bundesliga and nine from the second division - could face bankruptcy proceedings by June should play not resume by then.
RB Leipzig board chairman Oliver Mintzlaff told Monday's Bild paper that abandoning the season would be "a disaster" and supported a restart behind closed doors to help clubs avoid insolvency.
"The Bundesliga would not be the same. It would be a catastrophic image and that's why we have to do everything we can to end the season reasonably well," Mintzlaff said.
Adler meanwhile also said that a football restart would bring "a pleasant change to the currently monotonous everyday life," even if playing behind closed doors was the only option.