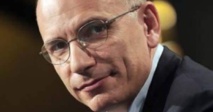 Enrico Letta
"I don't think the government is at risk," Letta said in a video conference with foreign media. "I see a situation of stability and continuity," he added.
Letta spoke amid growing rifts between and within the two main ruling parties, the populist Five Star Movement (M5S) and the centre-left Democratic Party (PD).
Coalition tensions are making life difficult for Prime Minister Giuseppe Conte. The M5S and PD are former sworn enemies, who joined forces last year to sideline Matteo Salvini's far-right League.
"I think it is an alliance with no alternative" given the imperative to keep out of power Italy's "radically anti-EU" opposition forces, Letta said.
Of course, "marriages of convenience and forced marriages are not love marriages," and "it would be nice if something more" developed between the M5S and PD, he added.
A government crisis in Italy would add to other major national challenges, including a record recession and severe job losses as a result of the novel coronavirus epidemic.
Letta hails from the PD and led a 10-month government between 2013-2014. He now teaches international affairs at Paris' Sciences Po university.