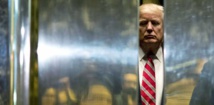 "Each of us believes that the conduct of
President Trump
described in Special Counsel
Robert Mueller's
report would, in the case of any other person not covered by the
Office of Legal Counsel
policy against indicting a sitting President, result in multiple felony charges for obstruction of justice," the former prosecutors wrote in a joint statement posted on Medium on Monday.
At least 375 former prosecutors had signed the letter as of Monday afternoon.
That number could grow: Protect Democracy, a nonprofit and nonpartisan organization, will update the list of signatories each day, according to the statement.
Citing the redacted version of Mueller's final report that Attorney General
William Barr
released to the public in April, the former prosecutors laid out three areas of evidence that would have produced obstruction charges if Trump were not president.
Trump's attempts to fire Mueller through
White House
counsel
Don McGahn
and then his subsequent requests to have McGahn falsely deny that Trump had ever asked him to fire Mueller were both "unlawful" acts, the prosecutors wrote.
The president's attempts in 2017 and 2018 to get then-Attorney General
Jeff Sessions
to un-recuse himself from overseeing the Mueller investigation and curtail its scope also constitute obstruction, according to the former prosecutors' statement.
"All of this conduct - trying to control and impede the investigation against the President by leveraging his authority over others - is similar to conduct we have seen charged against other public officials and people in powerful positions," they wrote.
The former prosecutors also pointed to evidence in Mueller's report that Trump intimidated and tampered with witnesses through public comments and private messages relayed through attorneys.
The prosecutors acknowledged that Trump would be given the opportunity to defend himself and make arguments in his favor.
"But to look at these facts and say that a prosecutor could not probably sustain a conviction for obstruction of justice - the standard set out in Principles of Federal Prosecution - runs counter to logic and our experience."
Barr, in consultation with Deputy Attorney General
Rod Rosenstein
, declined in March to prosecute Trump after reviewing Mueller's report. Barr and Rosenstein cited a longstanding department position that a sitting president cannot be indicted.
Rosenstein oversaw the day-to-day operations of the special counsel's work after Sessions recused himself from
Russia
-related matters.
A spokeswoman for DOJ could not immediately be reached for comment.
The range of signatories on Monday's statement from the former federal prosecutors is immense, with some having worked at DOJ for more than four decades. The former prosecutors are alumni of "small, medium and large" offices in "urban, suburban and rural" places from "all parts of our country," they wrote.
The list of signatories includes alumni of the Eisenhower, Kennedy and Johnson administrations.
Notepad