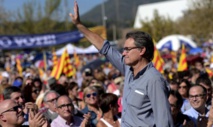 Renouncing a bid for the regional presidency was "the only way to form a new government" in Catalonia, Puigdemont said in a video posted on Twitter on Thursday.
The bid for independence by separatists in Catalonia plunged Spain into a major constitutional crisis.
The Spanish central government intervened after an independence referendum on October 1, dissolving the regional parliament and calling fresh regional elections.
In the elections held December 21, separatist parties again won a majority, leaving a dilemma over the formation of a regional government.
The Spanish Constitutional Court earlier ruled that Puigdemont could not contest the election while abroad, but Puigdemont faces immediate imprisonment upon returning to Spain.
His decision not to return leaves the way open for another candidate to become Catalonia's president.