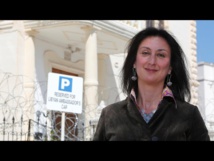 Citing unnamed police sources, the Times of Malta reported on Wednesday that the sheer force of the explosion and an account by an eyewitness during the blast pointed to the use of Semtex, a demolition compound often used in large-scale attacks.
Caruana Galizia, 53, was killed when her car was blown up just metres after she drove out of her home.
The Maltese government has roped in foreign experts to try to bring those responsible to justice.
On Tuesday night, opposition leader Adrian Delia called for the resignation of Prime Minister Joseph Muscat for his failure to safeguard the safety of Caruana Galizia.
Muscat said the blogger, who was highly critical of his Labour government, had rejected police protection.