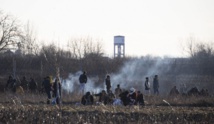 Istanbul

(dpa)

-
At the Pazarkule border crossing in the Turkish city of Edirne along the Greek border, an estimated 5,000 migrants anxiously wait, stranded in a tiny box of territory between Turkish authorities who won't allow them to go back, and Greek border police who deny them entry, using tear gas.
There is a heavy gendarmerie presence, and drones are flying over the Turkish side. On the Greek side, police have barricaded the gate with wire fences.
Hundreds of refugees, including Syrians, Afghans and Iranians, have been amassing at Pazarkule and the two other border gates in Edirne since Friday, after Turkey said it will open borders for them.
Crossing the Turkish side as gendarmerie watch on and with no security checks, refugees walk through a forested area, a roughly 1-kilometre-long buffer zone. Stretched along the border is a river, which some have been attempting to cross on dinghies since Friday.
Families, including babies and the elderly, have spent the past two nights here in nearly zero-degree temperatures and rain, taking shelter in makeshift tents that they set up using wood and plastic plasters they found in the area. Others who are not as lucky just sleep out in the open, using plastic and cardboard to protect them from the wet ground. Many set up camp lights, making it sometimes hard to breathe amid the heavy smoke, and many are coughing.
There is already desperation, fear and anger among them, with no chance of leaving for Europe in sight.
"There is still hope," says 19-year old Muhammed, from Syria's Deir al-Zour, who travelled from Istanbul on a bus.
He had to walk five hours to the gate after the bus left them just outside Edirne, which is 23 kilometres to border.
He says he and his friends had to use some of their clothes to set up a fire. "My European dream is to study medicine either in Germany or France. I have my high school diploma, some clothes and money in my backpack. That is my whole life now," he says.
Dozens have amassed just a few meters from the Greek border police, waiting desperately behind the wire fences and holding banners.
One banner reads "Open the borders. We are dying" in English.
Throughout Saturday, Greek forces had aggressively fired tear gas at the crowd, but the situation is relatively calm on Sunday afternoon.
People at times wave and yell at the Greek officials, who in response issue warnings through megaphones.
"Merkel help," reads another banner.
"We are appealing to the German chancellor to show the same solidarity she had in 2015," says Emircan Ibrahimi, the Iranian holding the banner. "We think Germany is powerful enough to help us."
"We thought this was going to be easy like in 2015. Looks like it's not this time," says Muhammed Ali, 31, from Syria's Aleppo, holding his 2-year-old baby.
There was a brawl yesterday and some people managed to cross into Greece either by the river or land, says one Turkish security official who asked not to be named.
In the buffer zone, there are almost no rules. Rubbish and diapers litter the ground. Emotions run high, a mix of desperation and hope.
A fight breaks out, with the area suddenly plunging into chaos, children screaming, people hitting each other with sticks and stones.
Some run to the gates as rumours spread Greeks will open them. It takes only a minute for them to realize it's actually not true.
"We are not authorized to intervene," the Turkish security official says, watching from a distance.
Aid organizations and non-governmental organizations, including the Turkish Red Crescent, are at the scene for help.
"We estimate [there are] around 5,000 people stranded here, and even more are coming from other Turkish cities," says the coordinator for the Ankara-based Association for Solidarity with Asylum Seekers and Migrants (SGDD-ASAM).
"The situation seems to be getting worse," he adds. His team provides food, blankets and basic medical equipment to the stranded.
Abdullah Muhammed, 46, from Syria's Aleppo, who travelled all the way from the central Anatolian city of Konya, says he took his family of five some 630 kilometres to Istanbul on Friday in a car that he paid 2,000 liras (320 dollars) for.
They then found a bus shuttle in Istanbul, which he says was free of charge and organized by the Turkish government, to drive to Pazarkule. "First time we arrived, some smugglers offered to help us cross the river for 75 liras per person. I rejected, fearing for my children's lives," he says.
He says he will have no other option but to go with smugglers if the waiting drags longer. "We escaped death in Syria. I would prefer to die in the river rather than go back," he exclaims.
His kids can't go school, and he is not allowed to work in Turkey since they don't have IDs provided by Turkey under temporary protection, he says, adding: "Anywhere will be better than this."
Notepad