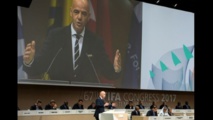 "FIFA has engaged counsel to take legal action in Saudi Arabia and is working alongside other sports rights owners that have also been affected to protect its interest," football's ruling body said in a statement.
"FIFA urges the authorities of Saudi Arabia and of the different countries where these illegal activities have been observed to support us in the fight against piracy."
BeoutQ was formed shortly after Saudi Arabia stopped broadcasts of Qatar's BeIN network in connection with a diplomatic row and a blockade.
BeIN has the World Cup rights, and those for other events including Wimbledon, for the Middle East and northern Africa. Saudi Arabia has dismissed allegations it was home to BeoutQ and had something to to with it.