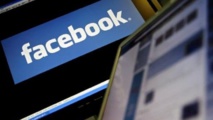 The release comes just three months before mid-term elections in the US, with lawmakers jittery after interference, allegedly by Russia, in the 2016 presidential election.
"We don't have all the facts, but we'll work closely with others as we continue our investigation," Facebook said, adding that some of the findings were consistent with activity by the Russia-based Internet Research Agency ahead of the 2016 election.
In its statement, Facebook showed one of the fake pages it had identified had been promoting a left-wing rally in the hopes of attracting real people next month. The timing of that event is apparently what sparked the public revelation.
More than 290,000 accounts followed at least one of the identified pages, though some had no followers at all. Advertisements were used to promote their content.
The announcement comes as Facebook is under pressure over inflammatory content, coordinated disinformation campaigns and data breaches on its platform.
Shares in the company dropped about 19 per cent last week after it warned investors of slowing revenue gains and increased spending. User growth, especially in the developed world, is slowly reaching potential.
Lawmakers were quick to blame Russia for the latest coordinated campaign.
"Today's disclosure is further evidence that the Kremlin continues to exploit platforms like Facebook to sow division and spread disinformation, and I am glad that Facebook is taking some steps to pinpoint and address this activity," said Senator Mark Warner, from the opposition Democrats.
"There is still much that needs to be done to prevent and counter foreign interference on social media," said Richard Burr, a Republican senator.
"The relationship between malicious actors and real-world sponsors can be difficult to determine in practice, especially for activity sponsored by nation-states," Facebook's chief security officer Alex Stamos said.
The company admitted it would be hard to trace the origins of what it is describing as "coordinated inauthentic behavior." The company noted that the users had gone to great lengths to cover their tracks, using more sophisticated and better methods than the 2016 manipulators.
Garrett Marquis, a spokesman for President Donald Trump's National Security Council, said the government supported the private sector's efforts to combat "threats that occur in cyber space, including malign influence."
Trump has generally downplayed or even denied Russian interference in the 2016 election, though he has walked those statements back, leading to confusion on his real beliefs.
The Facebook statement also included at least one page from Instagram, a photo-sharing platform owned by the company.