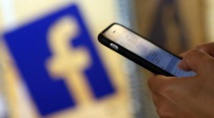 Facebook told a parliamentary committee that it would examine activity that was "not identified previously" from suspect accounts in Russia.
It had promised earlier to focus on advertising and other paid content from a cluster of accounts run by the "Internet Research Agency" in Russia.
"We are committed to making all reasonable efforts to establish whether or not there was coordinated activity similar to that which was found in the US and will report back as soon as the work is completed," the company said in a letter to the cross-party Culture, Media and Sport Committee of parliament's elected lower house, the Commons.
The committee said Facebook will attempt to "identify any coordinated activity of the spread of misinformation around the EU referendum that Facebook had not yet identified."
"It is right that companies like Facebook should initiate their own research into issues like this, where there is such clear public concern, and not just act in intelligence that has been passed to them," said Damian Collins, the chair of the committee.
Facebook's investigation is part of an inquiry launched by the committee in January 2017 after suggestions that "fake news" had played a role in the US presidential election and the Brexit referendum in 2016.
As part of the inquiry, members of the public were invited to give their views on questions, including what constitutes fake news.