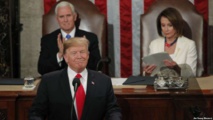 The facts: Economic growth accelerated last year as the Republican tax cuts took effect, putting the economy on track to top 3 percent annual growth for the first time since 2005. The partial government shutdown delayed the fourth-quarter data to confirm that.
The best year during the Obama administration was 2.9 percent in 2015. Experts said the
U.S.
economy was better in the late 1960s and 1990s.
But the initial stimulus from the tax cuts, which included slashing the corporate rate, began to fade in the second half of 2018. After expanding at a 4.2 percent annual rate in the second quarter last year, growth slowed to 3.4 percent in the third quarter and the consensus fourth-quarter forecast is about 2.6 percent.
The
Federal Reserve
is projecting 2.3 percent growth this year and 2 percent growth in 2020. Some economists are more pessimistic and said a recession could hit in 2020.
ENERGY
What Trump said: "We have unleashed a revolution in American energy -
the United States
is now the No. 1 producer of oil and natural gas in the world. And now, for the first time in 65 years, we are a net exporter of energy."
The facts: The
U.S.
is the world's No. 1 producer of oil and natural gas. But the nation actually imports more energy than it exports - and has done so since 1953.
This could change soon but hasn't yet. According to a recent
Energy Department
forecast, the country is expected to be a net exporter of coal, oil and natural gas by 2020.
THE WALL
What Trump said: "In the past, most of the people in this room voted for a wall - but the proper wall never got built. I'll get it built."
The facts: Customs and Border Protection spent about 2.3 billion dollars between fiscal 2007 and 2015 to increase barriers on the border from 119 miles to 654 miles, according to the Government Accountability Office.
Congress
has appropriated nearly 1 billion dollars in the last two years for about 50 miles of replacement fencing in
California
,
New Mexico
and
Texas
. Last year, lawmakers gave Trump more than 640 million dollars for 25 miles of new levee fencing and other "to be determined" barriers.
Trump's impasse with
Congress
over his demand for 5.7 billion dollars to build about 230 more miles of walls along the border led him to force a partial shutdown of government that lasted 35 days, the longest in
U.S.
history.
So far, no new miles of border barrier have been completed under Trump.
ILLEGAL IMMIGRATION
What Trump said: "I want people to come into our country - in the largest numbers ever - but they have to come in legally."
The facts: Apprehensions at the border, the most commonly used measure for illegal immigration, are at historic lows.
The administration also has taken unusual steps to limit legal immigration.
It has targeted asylum seekers, refugees, permanent residents and green-card holders, as well as people with temporary protection from deportation who were brought to the
U.S.
as children or came after disasters or conflict in their home countries.
CRISIS
ON THE BORDER
What Trump said: "Tolerance for illegal immigration is not compassionate - it is cruel. One in three women is sexually assaulted on the long journey north. Smugglers use migrant children as human pawns."
The facts: A border security system designed for single, adult males has been overwhelmed by rising numbers of mostly Central American families and unaccompanied minors who are seeking asylum in
the United States
.
But academics and advocates say Trump administration policies may be putting these women, children and families at greater risk.
In December, a federal judge blocked an administration policy that sought to stop victims of gang and domestic violence from claiming asylum in the
U.S.
The administration has begun forcing some asylum seekers to wait in
Mexico
while their cases are considered in the
U.S.
, a dramatic shift in
U.S.
immigration policy. The implementation started with Tijuana though it suffers from high crime and violence.
NORTH KOREA
What Trump said: "If I had not been elected president of
the United States
, we would right now, in my opinion, be in a major war with
North Korea
with potentially millions of people killed."
The facts: In 2017 and early 2018, Trump traded insults and threats with North Korean leader
Kim Jong Un
that sparked fears of an all-out war.
Nimble diplomacy by
South Korea's
president helped arrange a way out. Trump and Kim met in June in
Singapore
and agreed to seek "full denuclearization of the Korean peninsula," although
U.S.
officials admit that has not begun.
ISLAMIC STATE
What Trump said: "Today we have liberated virtually all of that territory from the grip of these bloodthirsty killers."
The facts: Top
U.S.
intelligence and military officials say
Islamic State
remains a potent threat even though it has lost most of the territory it once controlled.
Dan Coats
, the director of national intelligence, told
Congress
last week that
Islamic State
"is intent on resurging and still commands thousands of fighters in
Iraq
and
Syria
."
BORDER TROOPS
What Trump said: "I have ordered another 3,750 troops to our southern border to prepare for the tremendous onslaught."
The facts: Trump first sent active duty troops to the border a week before the
Nov. 6
midterm elections, raising concerns in the Pentagon and in
Congress
that he was using the military for partisan political purposes.
About 2,300 troops are now posted near border crossings, down from about 5,900 in November, to help the
Border Patrol
.
On Sunday, the Pentagon said it would send another 3,750 troops to help reinforce barriers and monitor crossings. That would bring the total to about 6,000, close to the original deployment.
DRUG PRICES
What Trump said: "Already, as a result of my administration's efforts, in 2018 drug prices experienced their single largest decline in 46 years."
The facts: Federal data show that overall per-capita spending on prescription drugs declined in 2017, though not as much as spending went down in several previous years, including 2010 and 2012.
But projections suggest drug spending is once again increasing as prices continue to shoot upward. In January, pharmaceutical companies hiked prices on more than 250 prescription drugs, according to a Reuters analysis.
Notepad