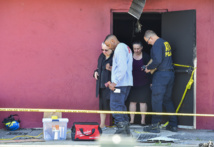 Federal prosecutors reportedly played hours of video wiretaps as part of the ongoing college basketball corruption trial in
New York
.
Matt Norlander
, a senior writer for
CBS Sports
, tweeted that an assistant coach and an aspiring sports agent discussed a payment scheme for Bagley, who was a prized high school recruit.
"Today in federal court," Norlander said, "
FBI
video wiretaps were played that included former USC assistant coach
Tony Bland
talking to
Christian Dawkins
about establishing a recruitment and payment scheme for then-prospect Marvin Bagley III."
Someone from the Team Bagley Twitter account replied to Norlander's tweet, saying: "Please note, there were/are no wiretaps, or ANY type of communication from Marvin Bagley III, or ANY member of his family agreeing to receive, receiving, requesting, or even discussing ANY type of payment."
The Team Bagley account also retweeted Norlander's post with the following message: "Those gentlemen can talk about whatever they want. Please know Marvin Bagley III nor ANY member of his family has EVER discussed any 'recruitment and payment scheme' with either of these gentlemen or anyone for that matter."
The Team Bagley account then tweeted a screen shot of a lengthy Instagram post from Bagley's father, labeling the tweet a "statement from
Marvin Bagley Jr
." That post could not be found on
Bagley Jr
's Instagram profile later Thursday afternoon, but the statement remained on Team Bagley's Twitter page.
"First off let me say this, before turning pro, Marvin Bagley III or ANY member of his family has NEVER received one penny to play for ANY team or sign with ANY agent,"
Bagley Jr
wrote. "Secondly, Marvin Bagley III & NO member of his family had any knowledge of any conversation these gentlemen had. IN FACT, we've NEVER even met or spoken with or even seen
Christian Dawkins
."
Dawkins was an aspiring sports agent, described as a "runner" for NBA agent
Andy Miller
. Dawkins was convicted in
October 2018
in a pay-for-play scheme designed to deliver top prospects to Kansas, Louisville and North Carolina State.
Bagley was a five-star recruit at
Hillcrest Prep
in
Phoenix, Arizona
, and then
Sierra Canyon High School
in
Chatsworth
. He signed with Duke, where he was an All-American as a freshman before the Kings selected him with the No. 2 pick in last summer's NBA Draft.
Bagley reportedly made campus visits to Duke, USC and
UCLA
before making a widely anticipated decision to attend Duke.
College basketball has been rocked by a corruption scandal that reaches from grassroots basketball programs to
NCAA
institutions and shoe companies that make billions of dollars. The
Oregonian
examined Bagley's relationship with Nike in 2018 in the first part of an occasional series on the scandal.
In
March 2018
,
USA Today
reported the Bagley family received direct benefits from Nike's sponsorship of the Phoenix Phamily, a youth basketball club coached by
Bagley Jr
. The newspaper reported that shortly after
Bagley Jr
assumed control of the
Nike Elite Youth Basketball League
team, the Bagley family relocated from the Phoenix suburbs to a ritzy
Southern California
neighborhood where homes sell for more than 1 million dollars.