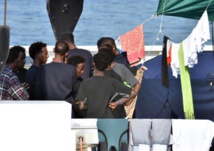 Rome

-
By Lena Klimkeit and Ruppert Mayr,
-
Italian authorities have let some people off a coastguard ship docked in Sicily due to several suspected cases of tuberculosis, while more than a hundred other migrants remain stuck on the vessel amid EU-wide disagreement over who should take them in.
Twelve migrants left the Diciotti coastguard ship on Saturday, Italian media reported citing documents from health officials.
The boat docked in the Sicilian port city of Catania on Monday, but Italy's hardline government has refused to let the migrants disembark until other EU countries agree to take them in.
The Interior Ministry in Rome initially said 16 had disembarked on Saturday, but news agency ANSA reported that several women refused because they did not want to leave behind family members.
ANSA reported that two of the people who got off the Diciotti were suffering from suspected tuberculosis, a potentially serious infectious disease that primarily affects the lungs. However, other sources told dpa the number was higher.
Tuberculosis is the bacterial disease that most often leads to death worldwide - even though it is treatable. The disease is highly contagious and is spread through coughing and sneezing.
The Diciotti coastguard ship rescued a total of 190 migrants on August 16. Thirteen people were sent to the island of Lampedusa immediately after the rescue, while 27 minors were allowed to disembark on Wednesday.
The UN refugee agency, UNHCR, called on EU countries to end the "dangerous and immoral" stand-off that has caused the migrants to be confined to the Diciotti.
"The time has come to end the back-and-forth that has seen countries competing in a race to the bottom on who can take the least responsibility for people rescued at sea," said UN high commissioner for refugees Filippo Grandi.
"It is dangerous and immoral to put the lives of refugees and asylum seekers at risk while states engage in a political tug-of-war on long-term solutions," Grandi said in a statement released on Saturday.
Representatives of 12 EU member states met on Friday to seek long-term solutions to the issue of migrant rescues in the Mediterranean Sea.
However, the talks produced no results, with member states failing to agree on new standard procedures for the redistribution of migrants.
Italian Industry Minister and Deputy Premier Luigi di Maio later said that Rome was prepared to withhold its EU contributions if there was no solution to the migration quagmire, reiterating a threat made ahead of Friday's talks.
German Chancellor Angela Merkel was restrained in her response to Italy's threat on Saturday, saying only that discussions over the distribution of refugees were taking place in Brussels and "all the countries are also introducing their positions."
A decision by Merkel in 2015 to open Germany's borders to migrants stranded elsewhere in Europe earned her much praise from humanitarian groups, but left her battling against rising anti-immigrant sentiment at home and the emergence of a strong right-wing populist opposition.
Italy has also been negotiating with countries outside the EU on potentially taking in the Diciotti migrants. The Foreign Ministry in Rome tweeted late Saturday that EU membership hopeful Albania had agreed to take in 20 of them.
"We cannot replace Europe, but we are always here," Albanian Foreign Minister Ditmir Bushati wrote on Twitter.