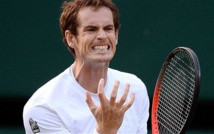 Murray, 32, has announced he would play doubles with Feliciano Lopez at the June 17-23 event in London in his return from hip resurfacing surgery after the Australian Open in January.
The Briton had said in Australia the first-round defeat against Roberto Bautista Agut could be his last career match, depending on the outcome of the operation. Federer, Nadal and other stars were among those featured in an emotional video in Melbourne.
"I think all of us top guys would be thrilled to see him back on the tour," Federer said at the French Open ahead of his semi-final Friday against Nadal.
"After we realized he wasn't sure (about retirement), we were all hoping he would come back.
"From what I'm hearing, there is two ways to look at it. It's number one for his health, and we want Andy to be healthy, more so than being a tennis player. But if he can play tennis on top of it, that's a super bonus."
Nadal said "I always thought that he will find a way to try to be back, because still young and still very passionate about the game. So I'm happy to see that he gonna play again."
Murray has said he is pain-free and is expected to play doubles at Wimbledon, which starts July 1, as well but it is not clear when or if he will return to singles action.
He won 45 titles so far in his career, including the 2012 US Open and 2013 and 2016 Wimbledon, plus back-to-back Olympic gold 2012 in London (at Wimbledon) and 2016 Rio, and the 2016 ATP Finals.