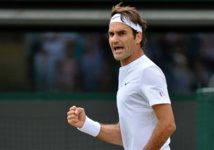 Federer has now beaten the South Korean twice this year after winning the Australian Open semi final against the South Korea in January.
The Swiss player's 16-0 record since the start of the season matches his streak at the same time in 2006.
"What was I doing back then?" he said.
"I don't even remember what tournament I played first up and won.
"It's a great start. Hopefully I can do one more and beat my best streak on Saturday."
Federer was playing his 12th Indian Wells quarter-final after he registered his 60th tournament win on Wednesday.
He is 10-1 in quarter finals matches in Indian Wells with his lone loss coming to Rafael Nadal in 2013. That was also the last year Federer failed to reach the Indian Wells final.
He was runner-up in 2014-15, did not play in 2016 and won his fifth title last year.
Federer delivered 12 aces and broke Chung four times.
"It was a great atmosphere. It was breezy. Yeah, and he's a great player. I'm happy I found a way," the world number one said.
Milos Raonic got a walkover against Marcos Baghdatis and Croatian Borna Coric beat seventh seed Kevin Anderson 3-6, 6-4,4 7-6 (7-3).
In women's play, Venus Williams beat Carla Suarez Navarro 6-3, 6-3 while Daria Kasatkina beat former number one Angelique Kerber 6-0, 6-2.
"You kind of hope for this kind of scoreline, but you never know if you're actually going to get it. I was happy with the play," Williams said.
"I'll just try to play well. I don't have any special plan. Really just try to play well."