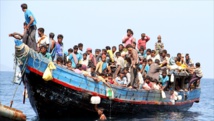 Forty-six women, 24 men and three children were rescued soon after the accident, Islam said at the end of day's search operation for the missing.
He said that the rescue operation would resume on Wednesday morning as he believes at least 40 other Rohingya Muslims remained missing in the bay.
Local government official Noor Ahmed said the coastguard retrieved bodies nearly 1 kilometre off Saint Martin's island, the southernmost part of Bangladesh in the Bay of Bengal.
The vessel was overcrowded with at least 124 people on board when it capsized in the early hours of Tuesday, Ahmed told dpa by phone from the island. Among the passengers were about 90 women and eight children.
The boat might have overturned in the sea when it crashed into a large rock amid dense fog, he said.
"All of them are Rohingya Muslims and had set sail for Malaysia in the small boat through the Bay of Bengal," he said of the survivors.
Hamidul Islam said four human traffickers gathered the Rohingya men and women on the seashore on Monday night and transported them overnight to a main boat waiting in the bay using smaller boats to begin the voyage into the deep waters.
The boat capsized hours after they began the journey, he said adding that the guards captured two of the four traffickers and handed them to local police.
Deaths from capsized boats carrying undocumented migrants are common as many Rohingya living in Bangladeshi camps, as well as locals, try to cross the Bay of Bengal for Malaysia or other destinations.
Bangladesh has been hosting more than 1 million Rohingya Muslims after they fled persecution in neighbouring Myanmar. Of them, nearly 750,000 crossed the border following the 2017 military crackdown that killed an unknown number of people in Myanmar's northern Rakhine state.
Bangladeshi Foreign Minister Abul Kalam Abdul Momen told reporters in Dhaka that the government would further enhance security around the refugee camps in Cox's Bazar to prevent such risky trips into the sea.
The United Nations High Commissioner for Refugees (UNHCR) and the International Organization for Migration (IOM) in a joint statement said the UN has also been supporting law enforcement agencies to enhance their capacities to address smuggling and trafficking and to protect those most at risk.