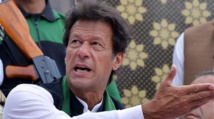 عمران خان
Khan's Pakistan Tehreek-e-Insaaf (PTI) secured 116 seats in the national assembly and 16.86 million votes, according to the Election Commission of Pakistan.
That means PTI fell short of the 137 needed to take an outtright majority in the 272-member National Assembly and must find coalition partners.
"We have completed our homework and will form the government," PTI spokesman Iftikhar Durrani told dpa.
Durrani expressed confidence the PTI could make it happen, saying allied parties have 11 seats and that 13 independent candidates would work with the party.
"I hope that [President Mamnoon Hussain] will summon the National Assembly session at the earliest so that we could formally start the process of forming our government," PTI leader Naeemul Haq said after the results were announced.
"Khan will take the oath as prime minister before the Independence Day (August 14)," Haq said.
On Thursday, Khan declared victory and promised wide ranging reforms in a televised speech, even before official results had started trickling in.
An unprecedented delay in the announcement of official results for Wednesday's polls has triggered accusations that the election had been rigged by the army in Khan's favour.
Final results showed the Pakistan Muslim League-Nawaz (PML-N) of jailed former prime minister Nawaz Sharif picking up 64 seats.
The Pakistan People's Party (PPP) of former president Asif Ali Zardari won 43 seats.
The turnout was 52 per cent. In 2013 elecitons, the turnout was recorded at 55 per cent.
Almost all political parties except Khan's have rejected the results and are now considering the option of having fresh elections.
"We have rejected the entire election process and are discussing fresh elections with other political parties," PML-N spokesman Mushahidullah Khan said.
"If they go for fresh election, they will be defeated again but with a bigger margin," the PTI's Durrani said.
PPP co-chairman Bilawal Bhutto Zardari announced he will sit on the opposition benches but added: "Free and fair elections are every Pakistani's right and on that front we are not willing to compromise."
Questions about the credibility of the elections have been raised by local and international observers but Durrani said the observations were incorrect.
The Election Commission of Pakistan rejected the accusations of rigging and said the delay in the announcement of the results was caused by the malfunction of software.