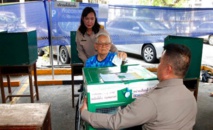 The country's election-governing body initially pledged to announce preliminary results late Sunday, the night of the election, but only held a short press briefing to announce that results would be made public on Monday.
At a press conference on Monday, officials from the commission said partial results would be published online later on Monday but that official final results would not be released until May 9.
"Unlike other countries, we cannot count votes so quickly and announce winners the following day," said Charungwit Poomma, the body's secretary-general.
The commission also asked for a few days to address complaints about alleged voting irregularities, such as vote buying and a miscalculation of the number of eligible voters and ballots.