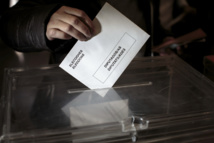 Almost 37 million Spanish voters are called to 23,000 polling stations across the country, with some 92,000 police officers providing additional security.
Prime Minister Pedro Sanchez called the snap election after Catalan parties withdrew their support for his budget proposal.
His Socialist Workers' Party (PSOE) - which has positioned itself as a bulwark against the rise of the far-right Vox party - is leading in the polls but likely to fall short of a majority.
It would need the backing of the left-wing Podemos and possibly other parties in order to form a new government.
If conservative forces spearheaded by the People's Party (PP) manage to garner a majority, newcomer party Vox could become a member of a coalition. It would be the first time a far-right party has been in a central government for decades.
Vox is already part of the southern region of Andalucia's coalition. PP and the liberal Ciudadanos struck a deal with the party in February.
Sanchez became the first party leader to be cast his vote on Sunday. The prime minister went to a polling station in Pozuelo de Alarcon, a suburb of Madrid, at 9:30 am (0730 GMT) before encouraging bystanders to do join him by casting their vote.
According to the last opinion poll published by El Pais newspaper, the PSOE is set to win 30 per cent of the vote, while PP will win only 20 per cent.
The poll puts the centre-right Ciudadanos and Podemos at 14 per cent, respectively, while Vox comes in with 11-per-cent support.
The next regular parliamentary election would have been due in June 2020.