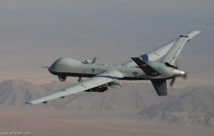 The five - including a child – were injured by shrapnel falling from the drones over a residential area in the city of Khamis Mushait, in south-western Asir province, the spokesman of the Civil Defence Authority in Asir Colonel Mohammed bin Abdul-Rahim al-Assami said.
Several houses, cars and a wedding venue were damaged in the incident on Tuesday evening, he added.
Saudi Arabia is leading a military campaign in Yemen against Houthi rebels allied with Riyadh's regional rival, Iran.
A similar incident took place last month, when a drone was shot by Saudi air defences over Abha city, also located in Asir province, injuring four Saudis and a migrant worker.
Yemen has been embroiled in a devastating conflict between the Saudi-backed government and the Houthis since late 2014.
The feud has intensified since March 2015, when the Houthis advanced on the government's temporary capital of Aden, prompting Saudi Arabia and its Sunni allies to start an air campaign against the Shiite group.
The Houthis have since mounted dozens of attacks targeting Saudi territory.
The Saudis fear that the rebels will give Shiite Iran a strategic foothold in the Arabian Peninsula.