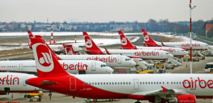 The driver of the car was detained at the airport in the central German city, the spokesman said, adding that the man may have been confused.
"I cannot say anything definitively yet," the spokesman added.
The man in the car, which had a Polish registration number, drove through a gate shortly before 4 pm (1500 GMT) and onto the airport apron, where he was then detained.
No flights have taken off or landed since the incident, although the terminals remained largely open, an airport spokesman said.