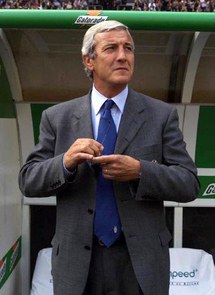 But Lippi said that was just his experienced countryman's way of motivating his own team.
"I think it's too much to talk about a David and Goliath analogy but Trapattoni is intelligent and what he says is to motivate his team," said Lippi.
"I dont think there is such a big gap between Italy and Ireland, they are only two points behind us in the group and have done really well up until now.
"They are a very strong team with athletic players, physical players but also skilful players."
One of those players is Ireland captain Robbie Keane who briefly played under Lippi at Inter Milan in 2000 -- although Lippi was fired soon after Keane arrived.
"He was 20 years old when I had him. He had a lot of enthusiasm like many other players of his age," said Lippi.
"Now, though, he is a complete player. He is a part of the story of Irish football, he is one of their great players.
"He has a lot of experience, he's technically gifted, he's cunning and skilful and he has become an out and out striker."
Lippi also paid tribute to his opposite number, who is widely regarded as Italy's greatest ever coach, and the man who Lippi succeeded at Juventus, inheriting a winning team that continued to dominate with him as much as they had done under Trapattoni.
"If I start listing his qualities we won't have enough time," said Lippi. "Trapattoni is the reference for my generation of coaches.
"He has passion, experience, shrewdness and it's great to see he still has this enthusiasm at 70 years old to keep teaching football all over the world."
A large part of the build up to this game in Italy has surrounded the omission of Sampdoria's in-form striker Antonio Cassano, a native of Bari.
There had been suggestions in the Italian press that Bari's fans, fiercely proud of their local talent, would jeer Lippi during the match.
Italian journalists have also been scrambling to get a soundbite from Lippi on this subject but he refused to discuss Cassano while claiming that he was sure Bari's fans would get behind their team.
"I'm sure the people of Bari will get behind Italy as they always have done. We gave a huge boost to Italy by becomming world champions and we have many great players.
"The important thing is to support their team, not the other thing.
"I really hope the Bari public will support their country. I just want to remind the people in Bari that two years ago this team became world champions and I think people in this city celebrated like everyone else."
--------------------------------------------------------------------------------
Image from www.wsoccer.com.