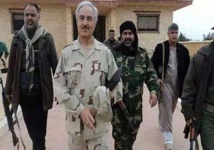 Mohammed Gannouno, spokesman for the forces of the Government of National Accord (GNA), said that they advanced into central Gharyan in a surprise attack took control of its facilities, defeating the forces of commander Khalifa Haftar.
Haftar, the commander of the self-styled Libyan National Army, controlled Gharyan in early April before he launched his offensive to seize Tripoli from the GNA.
Gharyan, located 90 kilometres south of Tripoli, is a main base for Haftar's forces in western Libya in the campaign against Tripoli.
A military source with Haftar's forces said that a "betrayal" took place as armed groups entered parts of Gharyan and handed weapons to sleeper cells. The source added that an operation was ongoing to retake control of the town.
The fighting between Haftar and Fayez Serraj, the head of GNA, over Tripoli has since descended into a stalemate and displaced thousands of civilians.
The violence has raised global fears that UN efforts to find a political solution to Libya's eight years of unrest may be derailed.
Libya has descended into chaos since the 2011 revolt that toppled long-time dictator Moamer Gaddafi.