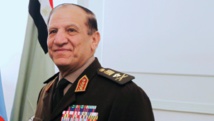 Mustafa Elshall posted a photo of him and Anan on Twitter, with a caption saying the former commander was home.
Anan, the armed forces' chief of staff between 2005 and 2012, was detained for investigation by the military in January 2018. He was taken into custody only days after he announced he would run in that year's presidential election in March.
At the time, the military said Annan, 71, committed violations when he failed to get the necessary permission before he announced his bid, and forged official documents related to the end of his service in the army.
The 2018 election saw Abdel-Fattah al-Sissi win a second term as president, with the incumbent netting 97 per cent of the vote. Al-Sissi had first taken office in 2014, a year after the then-army general led the overthrow of the country's first democratically elected president, Mohammed Morsi.
Al-Sissi's current term was extended from four to six years, and he is also allowed to run for one more six-year term, potentially enabling him to stay in power until 2030. The presidential term changes were part of constitutional amendements approved in a referendum earlier this year.
Notepad