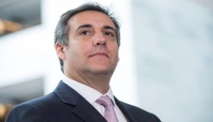 Trump's former lawyer, who served as the Republicans' deputy finance chair until June, registered himself online Thursday as a member of the opposition party, Cohen's lawyer Lanny Davis posted to Twitter.
"Today, Michael Cohen returning to the Democratic Party," Davis tweeted, noting it was "another step in his journey that began with... putting family and country first."
Cohen was "distancing himself from the values of the current" administration, Davis added.
Trump's ex-lawyer was a registered Democrat until 2017 when he became a Republican and then began working under Steve Wynn on the party's finance committee.
Cohen facilitated a non-disclosure agreement and a 130,000-dollar payment ahead of the 2016 election to porn star Stormy Daniels, who says she had an affair with Trump.
Cohen last month pleaded guilty to committing campaign finance violations in relation to the payment, which exceeded federal limits for campaign donations.
He is scheduled to be sentenced in December.
Notepad