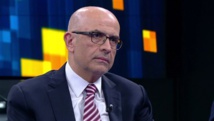 Enis Berberoglu
Enis Berberoglu, of the main opposition Republican People's Party (CHP), was released late Friday to house arrest as part of an amnesty aimed at reducing overcrowding in jails, where the virus can spread quickly.
The amnesty, approved in parliament mid-April, allowed around 90,000 inmates be released to house arrest until the end of July. The amnesty excluded those convicted for terrorism, among other offences.
Berberoglu will have to return to jail by the end of July, Anadolu reported.
Berberoglu, along with pro-Kurdish Peoples' Democratic Party (HDP) lawmakers Leyla Guven and Musa Farisogullari, were jailed on Friday.
The two HDP lawmakers were convicted of being members of an armed terrorist organization. The CHP's Berberoglu was convicted of leaking state secrets.
The HDP's Guven and Farisogullari remain jailed in the south-eastern city of Diyarbakir.
Notepad