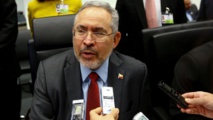 "Martinez suffered from a serious chronic illness whose progression aggravated his state of health and led to his death," the Venezuelan Public Ministry said in a statement posted on Twitter.
The statement added that Martinez, who served as the head of state-owned oil giant PDVSA, "received the the medical attention required in a health centre until the end."
Rafael Ramirez, who served as Venezuela's UN ambassador and as chief of PDVSA himself, had earlier announced Martinez's death and blamed Venezuelan President Nicolas Maduro for it.
"Nelson Martinez just died... kidnapped and abused for a year under the orders of Maduro, who knew of his chronic illness," Ramirez wrote.
"They humiliated him and denied him his right to defend himself and to life. Maduro, YOU are responsible," Ramirez added.
Ramirez went on to claim it was Maduro's "order, and hatred," that killed Martinez. "They humiliated him to death," he wrote.
The former UN ambassador reportedly had a close relationship to the late president Hugo Chavez but had a falling out with his successor.
Constituent Assembly President Diosdado Cabello, who is regarded as Maduro's right-hand man, said on state television that Martinez "had been in hospital for a few days, for those who are surprised today."
Martinez was arrested in November 2017 accused of authorizing a poor refinancing deal for the company's US subsidiary Citgo without government approval.