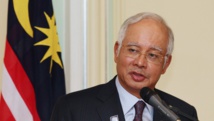 The unnamed 42-year-old was arrested late Sunday after being interviewed at the headquarters of the Malaysian Anti-Corruption Commission, according to the news agency Bernama, and appeared in court on Monday morning.
Prosecutors have obtained an order to detain the man, who was appointed as a special officer to Najib in 2009 and resigned in June, for seven days.
Najib, who has denied any wrongdoing, is accused of misappropriating some 4.5 billion dollars from the 1MDB state fund during his time in office, including nearly 700 million dollars that were allegedly transferred directly into his personal bank account.
He was unexpectedly voted out of office in May, losing to his 92-year-old former mentor Mahathir Mohamad, who reopened a corruption case against him that had been shut down by Najib's administration.
At least five governments, including those of the United States, Switzerland, Indonesia, Singapore and Hong Kong, have opened investigations related to 1MDB.
US Attorney General Jeff Sessions has called the 1MDB scandal an example of "kleptocracy at its worst."