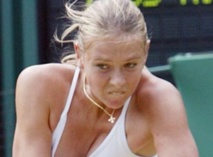 In a social media post the 32-year-old Russian said "sometimes the right decisions aren't always the easy ones," but added: "In better news, I have returned to the practice court, and slowly building the strength back in my shoulder."
Sharapova reached the last 16 of the Australian Open in January but has not played since the St Petersburg tournament later that month. She had a minor shoulder operation in February.
The five-time slam winner Sharapova won the French Open in 2012 and 2014.
This year's edition begins May 26 with Romania's Simona Halep the defending champion.
Notepad