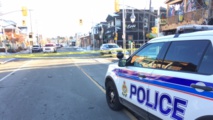 There were no indications that it was a terrorist attack, a police spokesman said on Saturday afternoon, but an investigation was ongoing.
"The incident can probably be ascribed to the special psychophysical conditions under which the young man was arrested," the police said.
The 27-year-old Italian man drove his car at high speed across the town's central Piazza Garibaldi, where a Christmas market was set up, at 3 pm (1400 GMT), the spokesman said. One woman sustained serious injuries. The two other people who were injured have already been released from hospital.
The driver of the car appears to have been drunk at the wheel and was also injured in the incident, the Italian news agency Ansa reported.
After he had hit the pedestrians, the man drove into the wall of a house, bringing the vehicle to a halt. He then tried to flee the scene.
The driver was later taken to hospital, where he was being tested to see if he was also under the influence of drugs.
Sondrio is located in Italy's Lombardy region near the border with Switzerland.