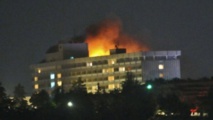 The attackers set fire to the kitchen in the Intercontinental Hotel and positioned themselves on the fourth and fifth floors of the building, Nasrat Rahimi, a spokesman for the Afghan Interior Ministry, told dpa.
Rahimi said the area has been cordoned off by special forces.
Casualties are feared but the number of those hurt in the incident is unclear so far.
The hotel serves as a meeting point for the Afghan capital's elite and caters to many international guests.
ToloNews, a local news agency, said some of the guests had been killed while others were taken hostage, in a report citing police.
No group has claimed responsibility for the attack so far.