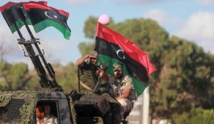 Three civilians were killed and 16 others wounded in a shelling on residential areas of Tripoli, including Souq al-Jumaa neighbourhood, Amin al-Hashimi, spokesman for the Health Ministry of the UN-backed government, which controls the west of the country, said late Friday.
A civilian was killed and two policemen wounded when Grad rockets hit the Farnaj area in Tripoli in the early morning of Saturday, the government's military said.
The Government of National Accord (GNA) has blamed the east-based forces led by commander Khalifa Haftar for the attacks.
In April last year, Haftar ordered his forces to seize Tripoli from the rival GNA. Haftar already controls large areas in eastern and southern Libya.
Libya has been in turmoil since the 2011 overthrow of dictator Moamer Gaddafi and has become a battleground for rival proxy forces.
The oil-rich country has two competing administrations: the GNA in Tripoli and the Haftar-allied government based in the eastern city of Tobruk.