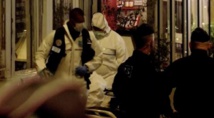 Paris

-
By Pol O Gradaigh,
-
The French government had to defend its anti-terrorism measures over the weekend after it turned out that the perpetrator of a deadly knife attack in Paris was on a state security watchlist.
Government spokesman Benjamin Griveaux said that the man, a naturalized French citizen who was born in the Russian republic of Chechnya in 1997, had been on the watchlist since 2016.
It was the second deadly attack in two months by a person flagged on the watchlist, and the conservative opposition renewed calls for persons on the list to be detained or deported.
On Sunday a video emerged online purporting to show the perpetrator of the attack swearing allegiance to Islamic State's leader Abu Bakr al-Baghdadi.
In the video, the speaker, wearing a mask that covers most of his face, calls on "my brothers the mujahedin" in French with scattered Arabic phrases to "Stay strong, for victory is close, God willing."
In terms typical of extremist group's propaganda, he calls on Muslims in Europe to try to move to Islamic State's now much-reduced territory, or, failing that, to commit attacks at home.
dpa was not able to verify the video, which appeared to have been published by Islamic State's semi-official Amaq Agency.
The attack near the Paris Opera, just before 9 pm (1900 GMT) on Saturday, claimed the life of a 29-year-old man. Four other people were injured, two of them seriously.
The attacker was shot dead by police, who arrived on the scene within minutes.
Both seriously injured people were out of danger by midday Sunday, a source close to the investigation said.
The attack took place in a busy area with several theatres and many bars and restaurants.
On Sunday, few traces of the deadly incident could be seen.
There was a bullet hole in the glass door of a bar on a street corner, and a scrap of red-and-white plastic tape still clung to the doorhandle of a restaurant on the opposite corner.
A German visitor to Paris told dpa she had been less than a metre away from the killer.
"The man stared at one of his victims on the ground, with a bloody knife in his hand," she said. "He had a crazy look in his eyes and seemed disconnected from reality, as if he couldn't see the people in front of him."
The attacker's parents, as well as a friend also born in 1997, have been detained for questioning, according to a judicial source.
Chechnyan leader Raman Kadyrov on Sunday said the attacker's roots in the Russian republic had nothing to do with the incident.
"I think it necessary to say that the entire responsibility for [his] turning to crime rests with the French authorities," said Kadyrov on the Telegram messaging app, according to Russia's TASS news agency.
Kadyrov also expressed condolences to the family of the stabbed man.
The revelation that the perpetrator was on the state security watchlist - known as the "S file" - drew an angry reaction from the right and far-right opposition.
In March, a man on the watchlist killed four people in a series of attacks in southern France, including a senior police officer who surrendered to him in return for the freeing of a civilian hostage.
The leader of France's biggest opposition party renewed his call on President Emmanuel Macron to detain "the most dangerous individuals" on the watchlist and expel all foreigners listed on it.
"There is no longer room, Mr President, for this blind inaction which has lasted too long," said Laurent Wauquiez, of the conservatives Les Republicains, in a statement.
However Griveaux said security forces had managed to foil 22 attacks over the past 15 months.
"When we live through a tragedy like yesterday, it is visible," Griveaux told broadcasters LCI and RTL. "What's unfortunate is that our successes, by definition, are invisible."
The security watchlist was a key tool for police and intelligence services, he said, arguing that experts were opposed to using it as a basis for round-ups or deportations.
Terrorist attacks have claimed more than 240 lives in France since early 2015, and Islamic State has claimed responsibility for most of them.