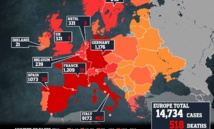 The lockdown, which came into force a week ago, was likely to last six weeks in total, a government-appointed scientific council said in an opinion briefly published on the Health Ministry's website.
The council said that given scientific uncertainty about how the epidemic was developing, it was not possible to give a date for the end of the lockdown.
"It seems likely that the lockdown will last at least six weeks from the point at which it went into effect," the council said in the document, which later appeared to have been removed from the website.
"The lockdown has one purpose: to protect the French," Health Minister Olivier Veran later told journalists. "As long as it has to last, it will. If we are able to lift the lockdown earlier, we will."
General Health Director Jerome Salomon announced that France now had 22,300 confirmed infections, up from 19,856 as of Monday, and 1,100 deaths in hospitals, up from 860.
The deaths do not include those which took place in old people's homes, an issue of growing concern after local authorities on Monday reported 20 deaths possibly linked to the disease in one home in eastern France.
The mayor of Saint Dizier in eastern France also told broadcaster BFMTV that there had been 15 deaths at one home in her town.
Veran said the government had told regional health authorities to collect information about the situation in old people's homes.
"We cannot have all that information in real time but we want to be completely transparent," he insisted.
Testing capacities were being ramped up sharply in line with recommendations from the World Health Organization, Salomon said.
The current capacity of 9,000 tests for the virus daily should reach 29,000 by the end of next week with the deployment of new walk-in units, he said.
Meanwhile, with hospitals under pressure in the hard-hit eastern Alsace region and the Mediterranean island of Corsica, Veran said a "medicalized" high-speed train would be used to transfer Covid-19 patients to areas with more capacity to treat them.
The specially adapted TGV train, a first in Europe, would transfer 30 patients from Alsace on Wednesday, Veran told the National Assembly.
The French military has also evacuated intensive care patients by air from Alsace and by helicopter-carrier from Corsica.
Defence Minister Florence Parly tweeted that a military field hospital newly set up in the Alsatian city of Mulhouse had received its first patient on Tuesday.